WELCOME TO THE OUTDOORSMAN!
Located in beautiful downtown Santa Fe, in the DeVargas Mall off of Guadalupe and Paseo De Peralta. We are proud to be Santa Fe's oldest full line Hunting and Sporting firearms retailer!
Full service means we do it all: buy, sell, trade, consign!
Look to us for professional appraisals, estates, and every firearm need.
We have just brought in over 70 Commemorative Winchester 94's and Colt Revolvers! 
We are restocking on firearms and ammunition constantly, our stock rotates daily with new and consigned items. Please note that the firearms industry is experiencing a nationwide shortage of most things at the moment, shipping times are delayed, and availability is spotty at best. Most common ammunitions are extremely scarce. 
We are Hiring!
We have positions available on both the sales floor and the in the back office with administration. Please bring a resume to the manager or owner anytime that we are open. 
What is new?
 We have finally stocked up on 22 long rifles and have Henry, Ruger, and Winchester. If you are looking for an accurate .22 lr rifle, now is the time!
MERCHANDISE LINES
We are master and stocking dealers with the following prestigious manufacturers. Through us you can access their entire catalog. If they have it in stock, we have it in stock. If you are interested in purchasing any of the items featured on this page please call us or stop by to place your order. Once your order request has been received and reviewed we will contact you with purchase options and relay to you the final cost of the firearm. Please keep in mind that all firearms purchased online must ship to an FFL holder of your choice unless you do a store pickup. Most orders are fulfilled within a week of placement.
Holosun    Tagua Leather     1791 Holsters      Benelli     Stoeger        Uberti       Buck Knives     CRKT      Gerber     Hogue      Winchester      Smith and Wesson     Henry      Windham Weaponry      Ruger     Uncle Mikes


Please visit the Browning site

here

and let us know what you are interested in!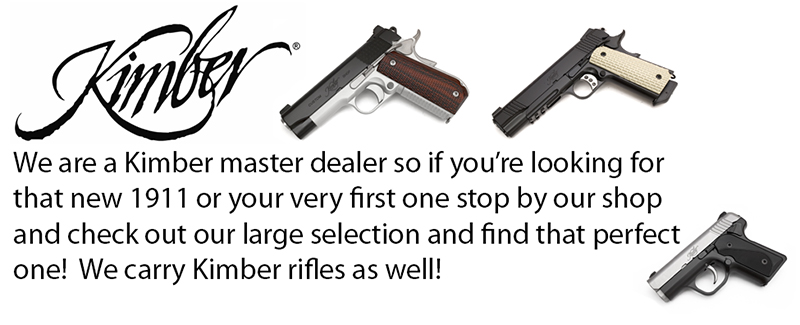 Please visit the Kimber site

here

and let us know what you are interested in!
 Please visit the Vortex site

here

 and let us know what you are interested in!