COVID-19 UPDATE
With the increase of
Coronavirus 
infections in New Mexico, Governor Grisham has ordered the closure of nonessential businesses and shopping malls, including the DeVargas Center. This means that the Outdoorsman of Santa Fe will also be closing to the general public until such measures are lifted. Rest assured that we are taking this into consideration for lay-a-ways, returns, and other time sensitive policies. 
NEW MERCHANDISE
BROWNING SAFES IN STOCK: Best deals of the year! ShotShow specials and manufacturer rebate! From February 27th to April 15th, 50$ rebate on any Prosteel safe purchase from $799-1,499, 75$ rebate from $1,500-2,499, and 100$ rebate on any safe over $2,500.  Come in today to learn more about this deal!
New Products!
Starting this year we are dealers for Aero Precision, carrying their full line of built and stripped AR uppers, lowers and well as built rifles. Our inventory is not limited to what we have in store however, we can also special order anything directly from Aero Precision.
Also in stock is the NeoMag, a new product designed to keep an extra magazine concealed at the top of your pocket for more discreet carry options with less around your waist. .380-.45, extended or standard, the NeoMag has the option to fit.
We are master dealers with the following prestigious manufacturers. Through us you can access their entire catalog. If they have it in stock, we have it in stock. If you are interested in purchasing any of the items featured on this page please call us or stop by to place your order. Once your order request has been received and reviewed we will contact you with purchase options and relay to you the final cost of the firearm. Please keep in mind that all firearms purchased online must ship to an FFL holder of your choice unless you do a store pickup. Most orders are fulfilled within a week of placement.


Please visit the Browning site

here

and let us know what you are interested in!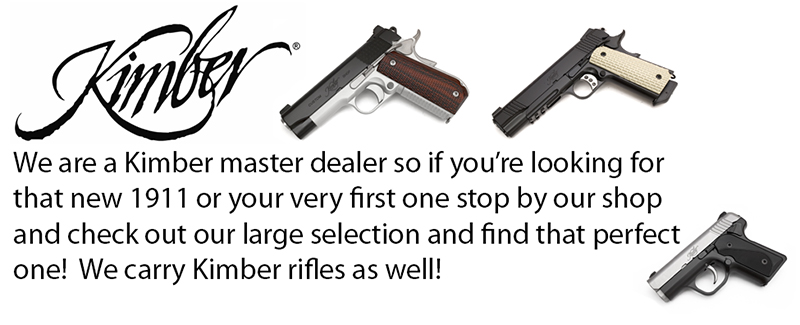 Please visit the Kimber site

here

and let us know what you are interested in!
 Please visit the Vortex site

here

 and let us know what you are interested in!